Self Dumping Hoppers
KW Materials Handling supplies self dumping hoppers that are engineered for ease of use, durability, safety and economy.  We have the toughest, most dependable hoppers on the market. Our hoppers are perfectly balanced to roll forward when loaded, dump completely and automatically return to upright, locked position ready for reloading.  Here is why you should choose KW Materials when buying a hopper.
9 standard sizes on our quick ship program.  Choose from 1/4 cubic yard all the way up to our 5 cubic yard model

Lowest pricing and fastest deliveries on all standard and custom models.

Most standard colours in the industry.  Choose from

RED,

BLUE,

GREEN,

BLACK

or any custom colour.  We can even match your companies colour scheme

Custom sizes available. If you need it, we can make it

Make it mobile.  Choose between 6 different caster options

Locally made in Ontario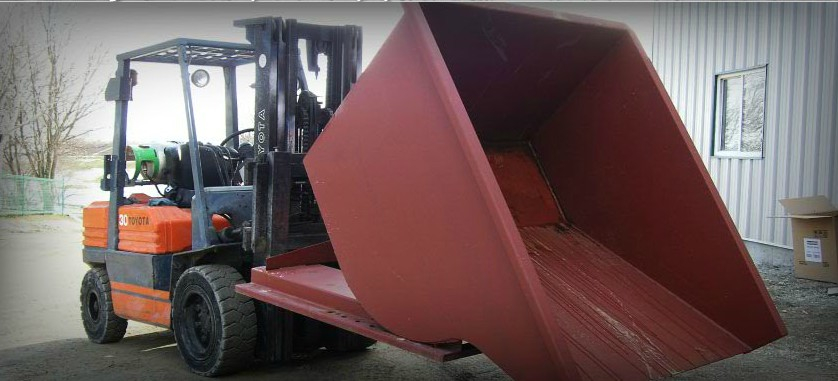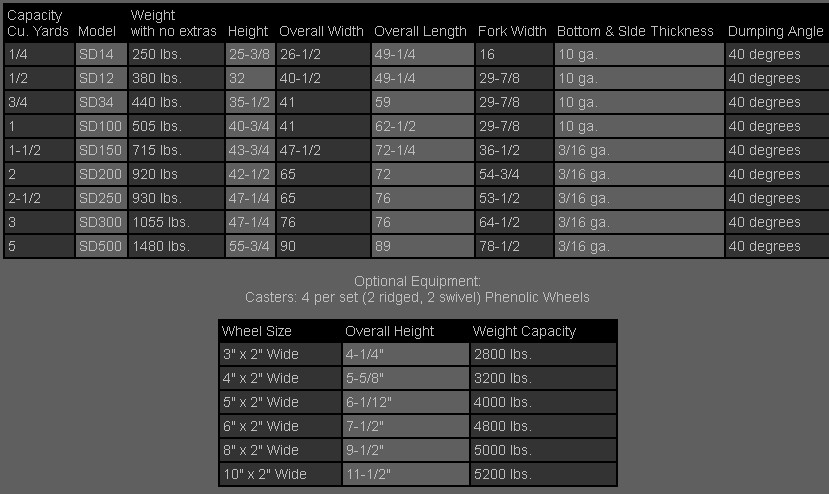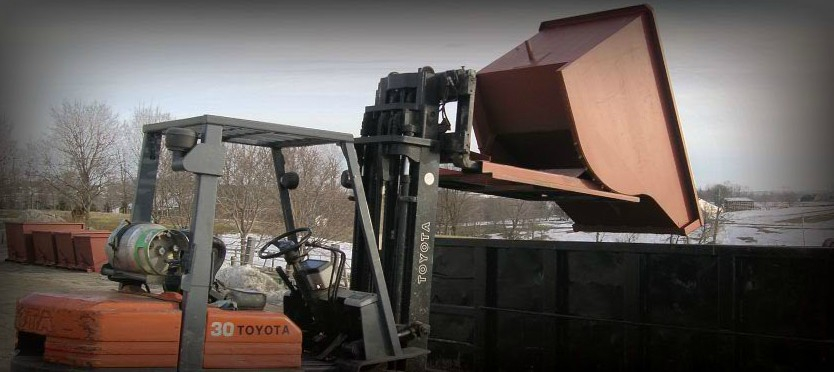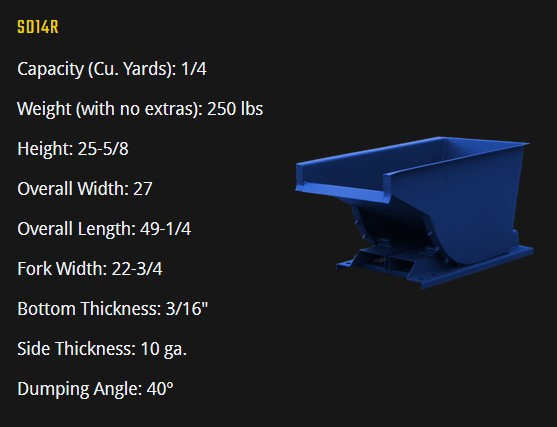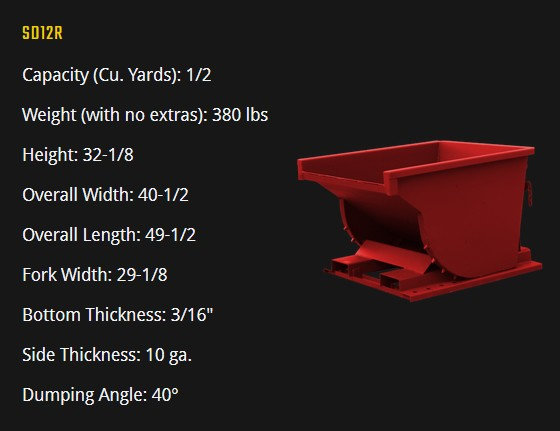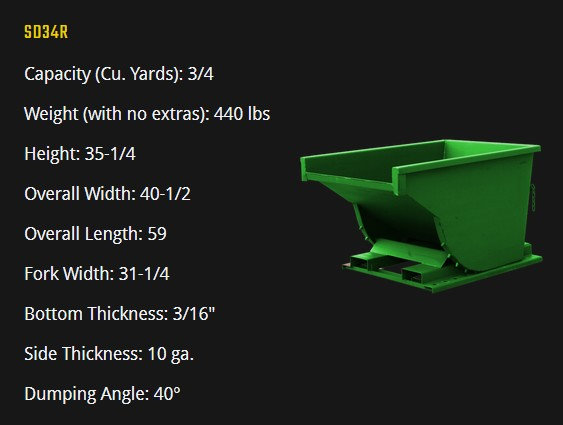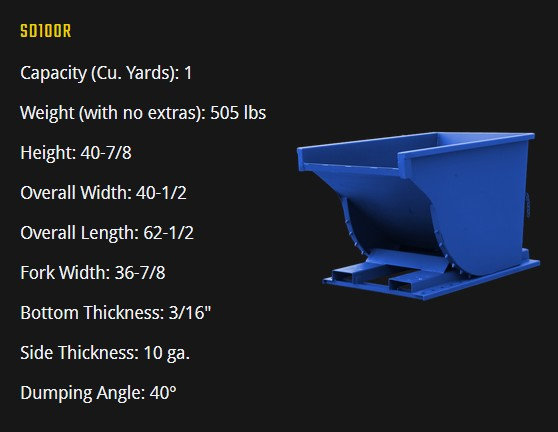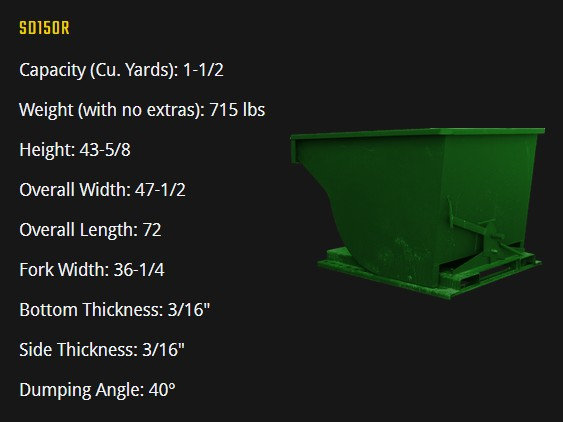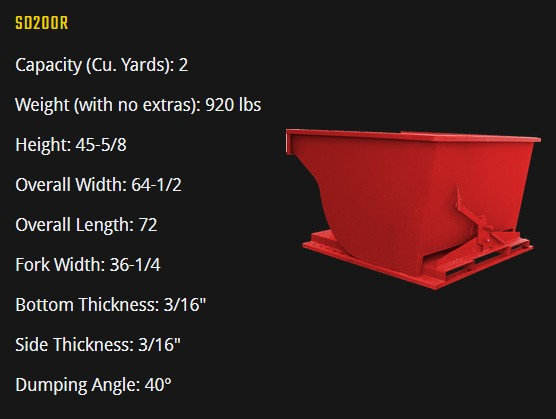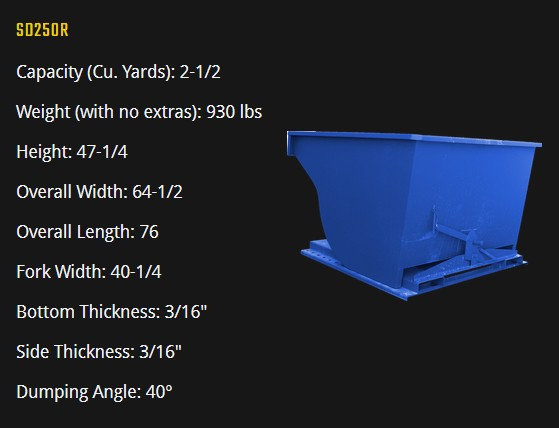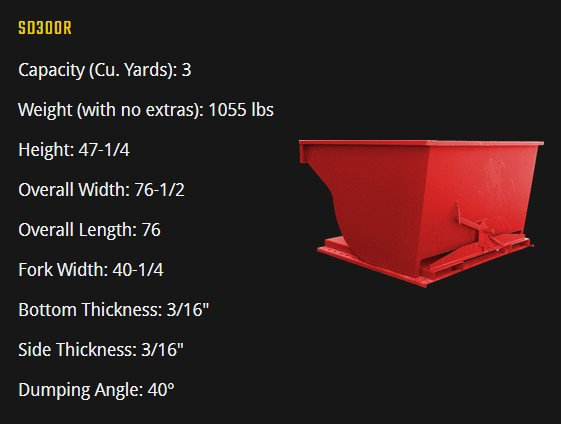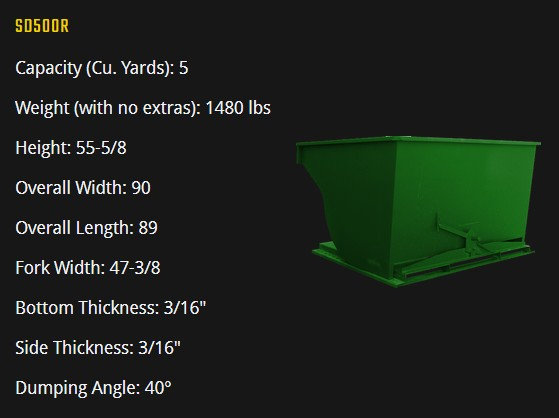 Vestil Bumper Release Self Dumping Hoppers
KW Materials Handling also carries the Vestil bumper release self dumping hoppers.  No leaving your forklift seat or pulling any levers or cables.  Hopper automatically dumps when bumper release contacts side of dumpster. Hopper returns to an upright and locked position automatically after it dumps. Also includes a cable that may be operated from the seat of the fork truck to manually dump the hopper. A locking chain is provided to secure the hopper to the fork truck. Usable fork pockets are 71⁄2"W x 21⁄2"H. Constructed with durable, consistent robotic welds. D-33, D-50, D-75 and D-100 are stackable if you stack the top hopper turned 90° from the bottom. Base fork pockets are 3/16" thick.  Powder coat blue finish ( standard ) or any other colour.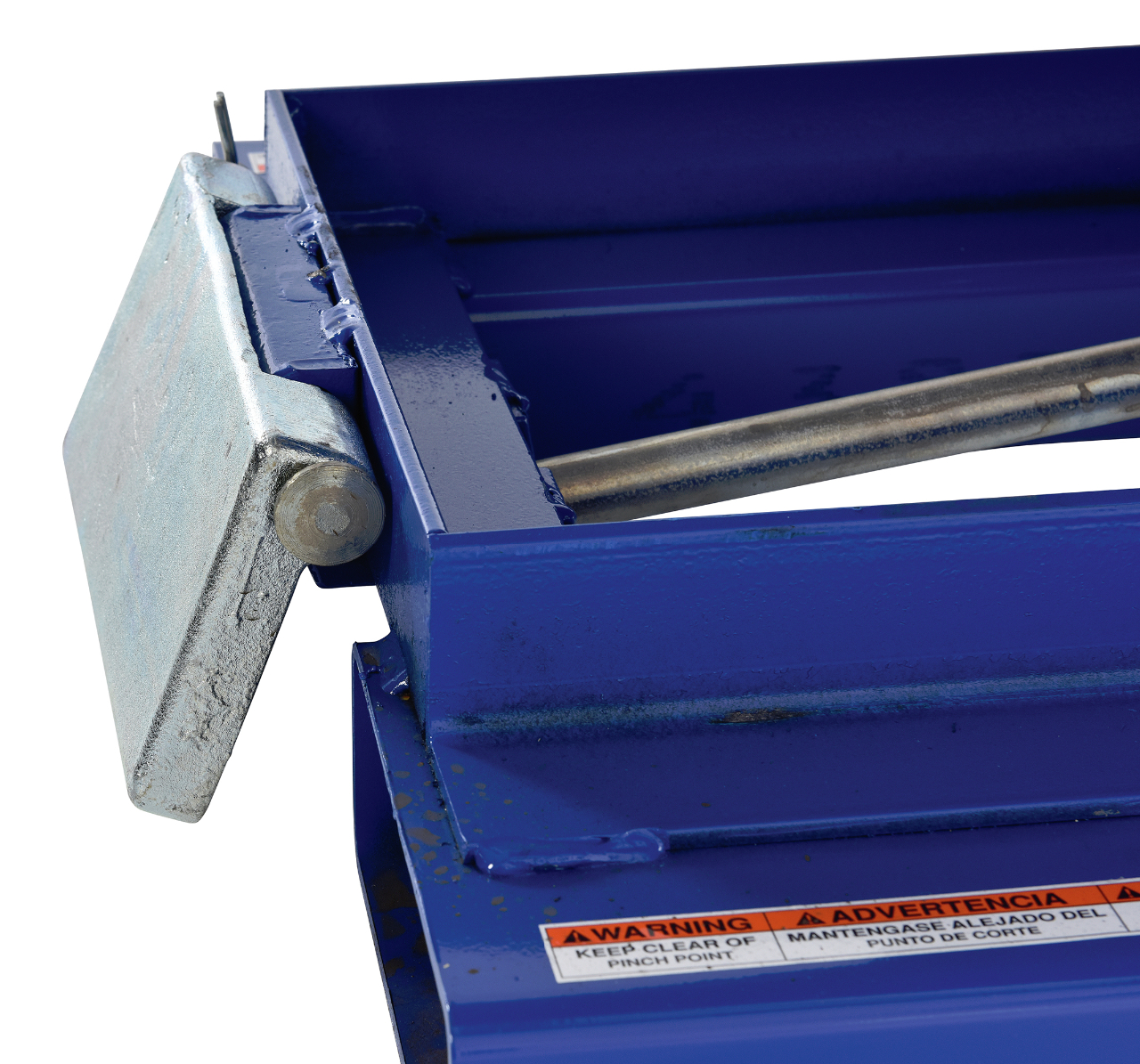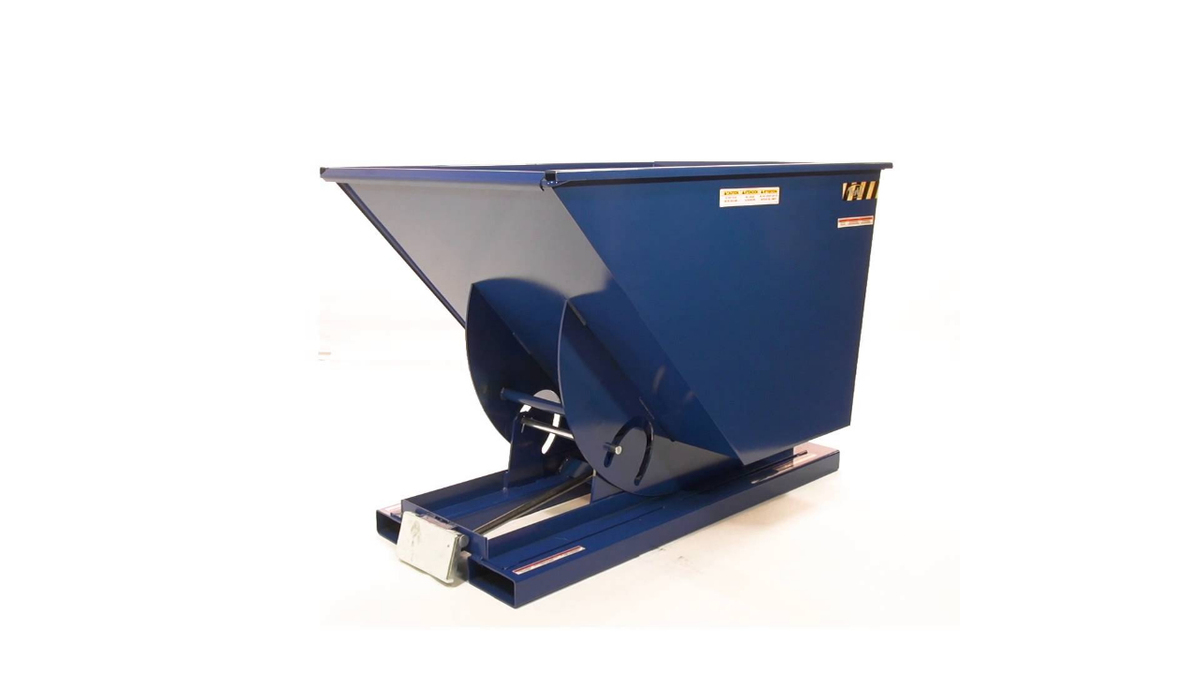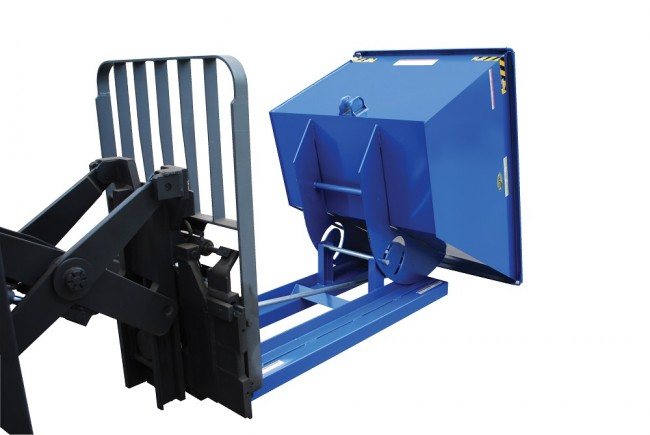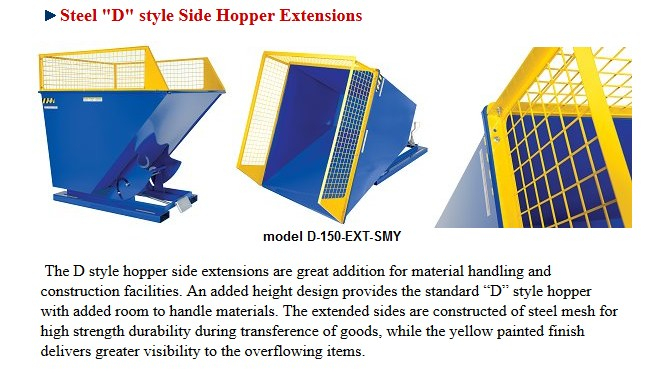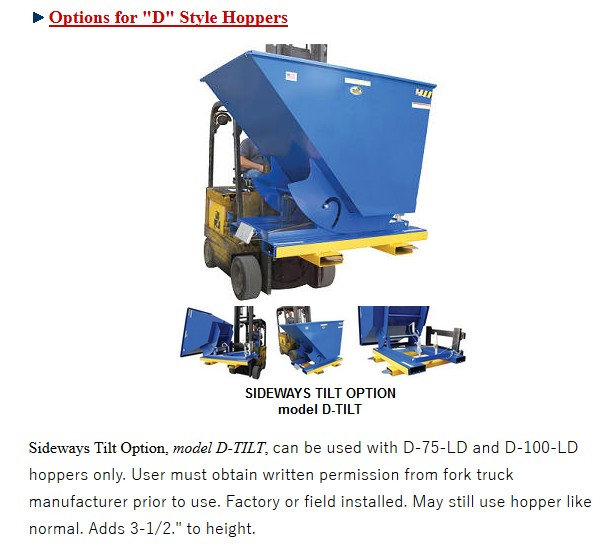 Specialty Self Dumping Hoppers & Custom Hoppers
KW Materials Handling can supply any special or custom self dumping hopper.  We have more standard styles of hoppers available than anyone else.  We can supply a dumping hopper that is specific to your application and requirements.  KW Materials carries the following styles of hoppers.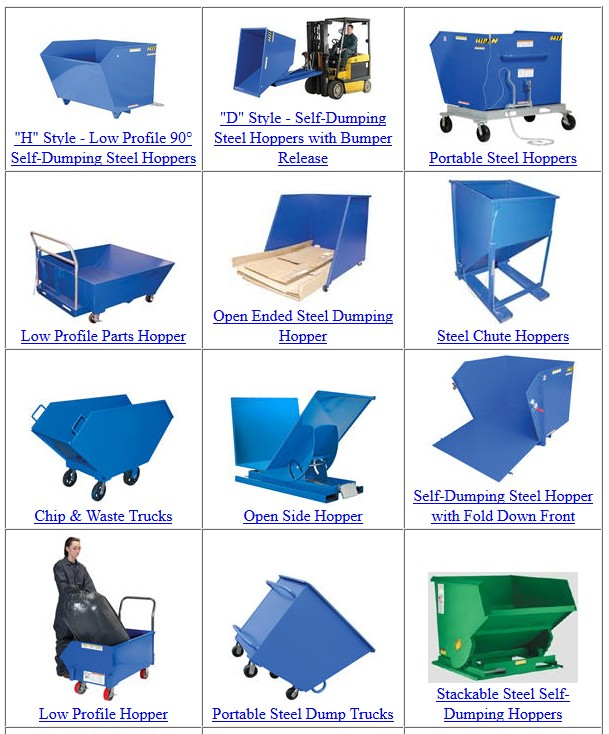 Crane Self Dumping Hoppers
Crane Self Dumping Hoppers, also known as Crane Bucket bins or Crane Dumping Boxes ( Crane Skip Box ) are designed for use in  construction and manufacturing applications. Our Crane hoppers can be moved into place with an overhead crane for easy dumping of contents.  Self-Dumping Crane Hoppers are designed for use in manufacturing plants, mills and heavy construction sites for fast, safe and economical handling of bulk material and scrap. The smooth bucket interior allows for the clean, complete dumping of materials. After dumping the Crane Hopper easily returns it to its upright latched position.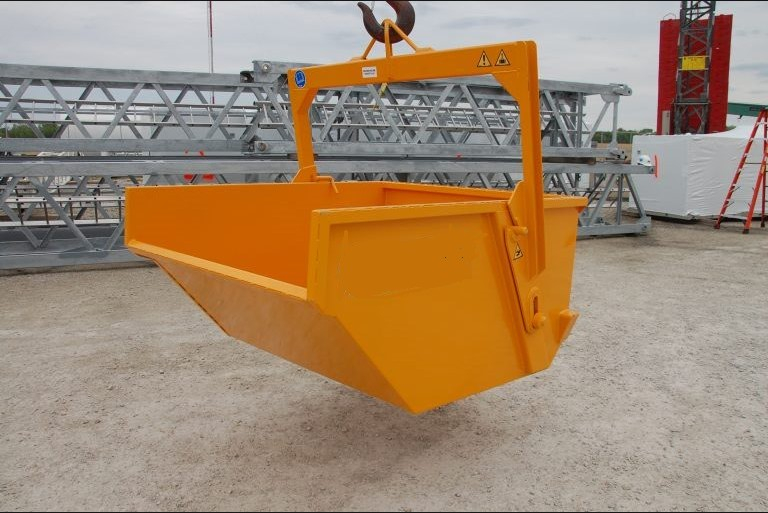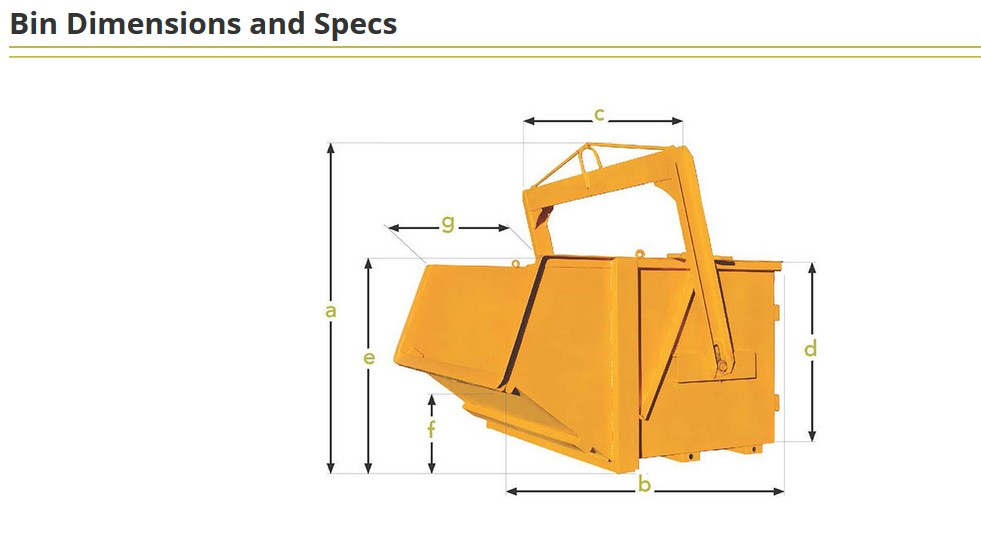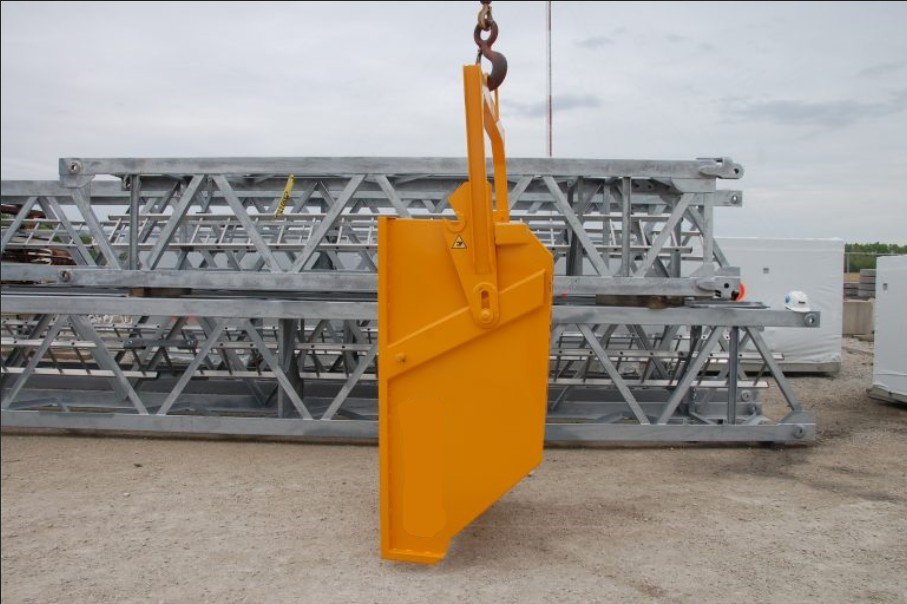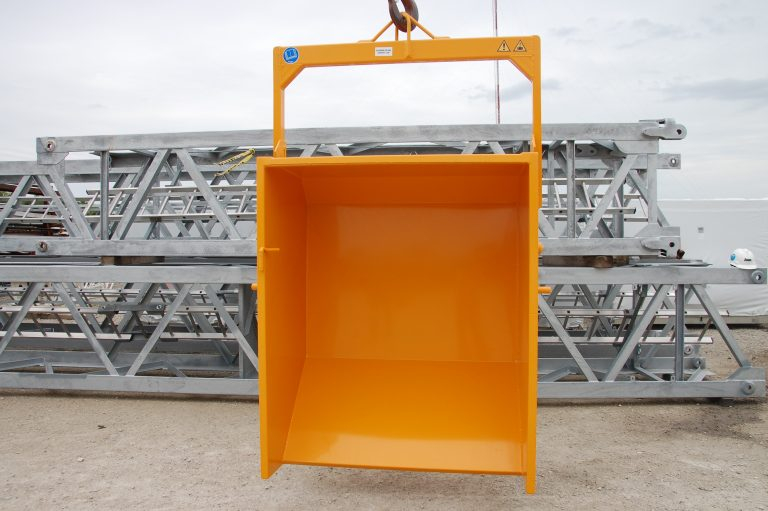 Poly Self Dumping Hoppers
Poly self dumping hoppers are used in the food service industry or other applications where you can't have a painted steel hopper.  Perfect for washdown applications and food processing plants.  The polyethtylene hopper body is mounted on a rugged, all steel frame and has casters for moving around without a forklift.  The poly hoppers come with a safety chain to secure to the forklift.  Positive action release lever prevents unwanted dumping.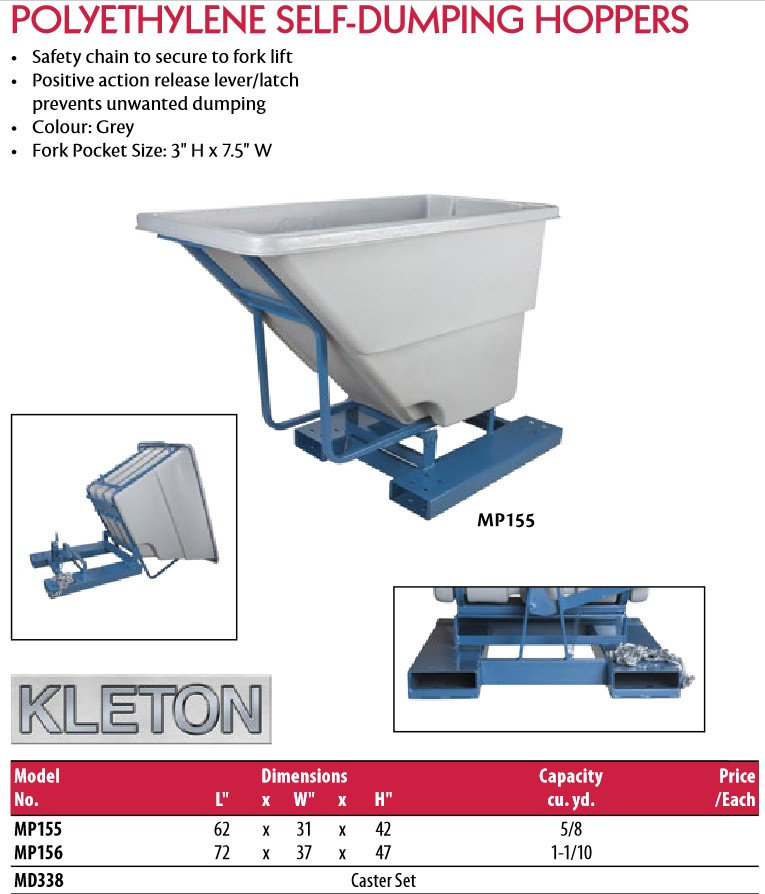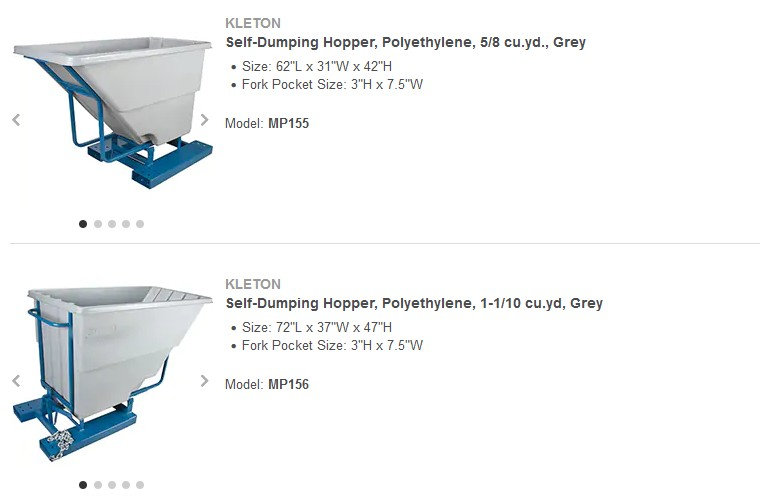 Poly Tilt Trucks & Rubbermaid Structural Foam Tilt Trucks
Poly tilt trucks are used to transport and dump waste, scrap and other bulky materials.  We have tilt trucks that are approved for use in Canadian food processing facilities.  Smooth surfaces ensure easy washdown applications.