Carts, Trucks, Dollies & Ladders
Lighten your load with the right handtruck or cart for your application. Whether its for distribution, production, delivery or for your factory or office, we stock a wide variety of carts and trucks. If its a custom application, we can design one for you. We have many caster options to suite your needs. From capacities ranging form 80 lbs. to 2000 lbs. and finishes like our standard paint or aluminum & stainless, we are sure to supply the best handtruck or cart for the best price. We even supply powered stairclimber carts to bring the heaviest of loads up staircases with little effort required. There are literally hundreds of different sizes and styles of the items below that we can't list them all here but please contact us and we can give you all the options.  Here is a partial list of the material handling products we carry,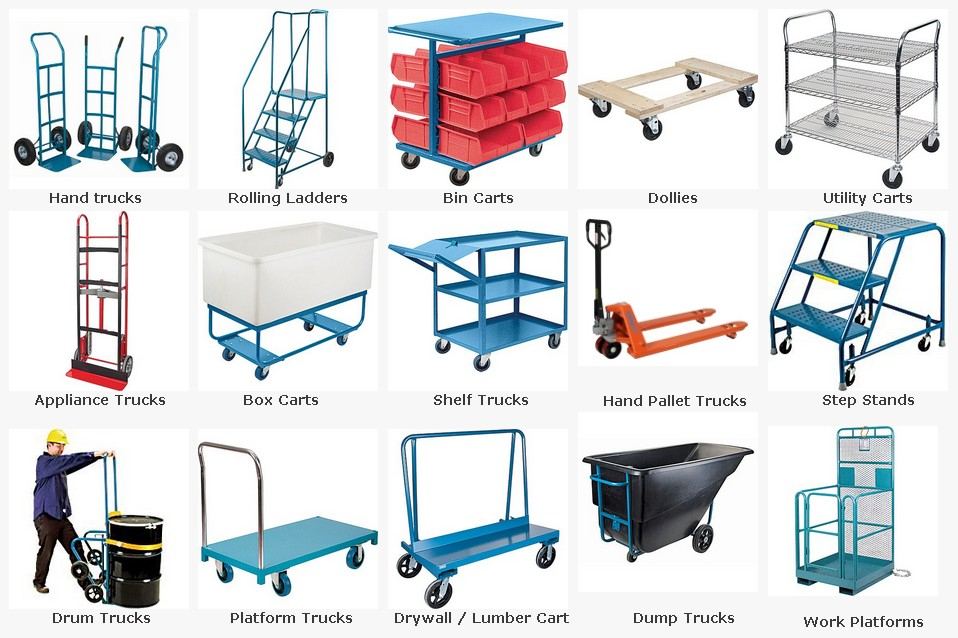 Platform Ladders, Rolling Platforms & Safety Work Platforms
ONTARIO INDUSTRIAL IS YOUR SOURCE FOR ROLLING WORK PLATFORMS, MAINTENANCE PLATFORMS, MECHANIC PLATFORMS, ELEVATED MOBILE WORK STATIONS AND MOBILE SCAFFOLDING LADDERS. ORDER SINGLE PLATFORMS OR A PAIR TO WORK FROM BOTH SIDES. REMOVABLE RAILINGS ALLOW WORKERS FULL ACCESS TO EQUIPMENT.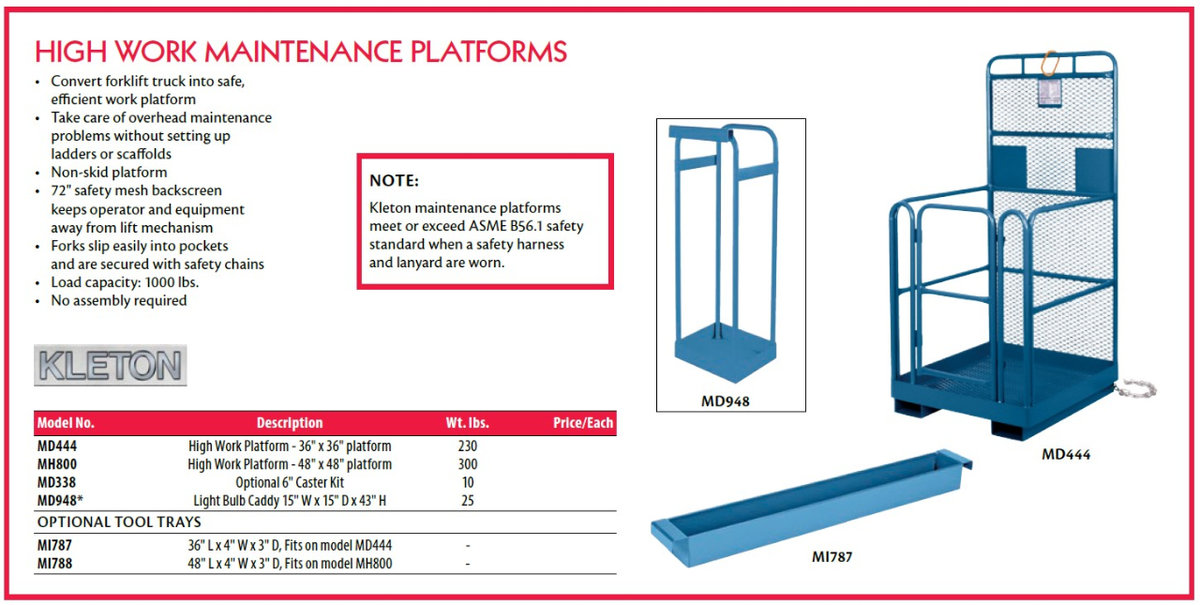 Mobile Access Platforms allow safe access to areas difficult to reach such as machinery, warehouse racking, vehicle maintenance including busses and trains and in welding or plastering applications.
Platforms can be designed to suit any requirement where off-the-shelf fabricated platforms are not applicable or ladders or towers are not appropriate.
The engineered designs using modular components allows the platforms to be delivered and constructed quickly and easily with minimal site disruption.
Features and Benefits
Custom -tailored platforms - modular design
Excellent strength - Corrosion resistant
Available in lightweight Aluminium or Galvanized Steel
Short delivery lead times - Manufactured using stock items
Minimal on-site disruption - Can be pre-assembled OSHA compliant
Professional Design
Each of our platforms are designed to suit a specific application and is built in accordance with all safety standards.
KW Materials Handling is Ontario's # 1 source for rolling ladders. We sell the Kleton and Canway brands of rolling ladders in all styles including...
ROLLING LADDERS

TILT-N-ROLL LADDERS

ROLLING STEP STANDS

SAFETY ANGLE LADDERS

ALUMINUM LADDERS

CROSSOVER LADDERS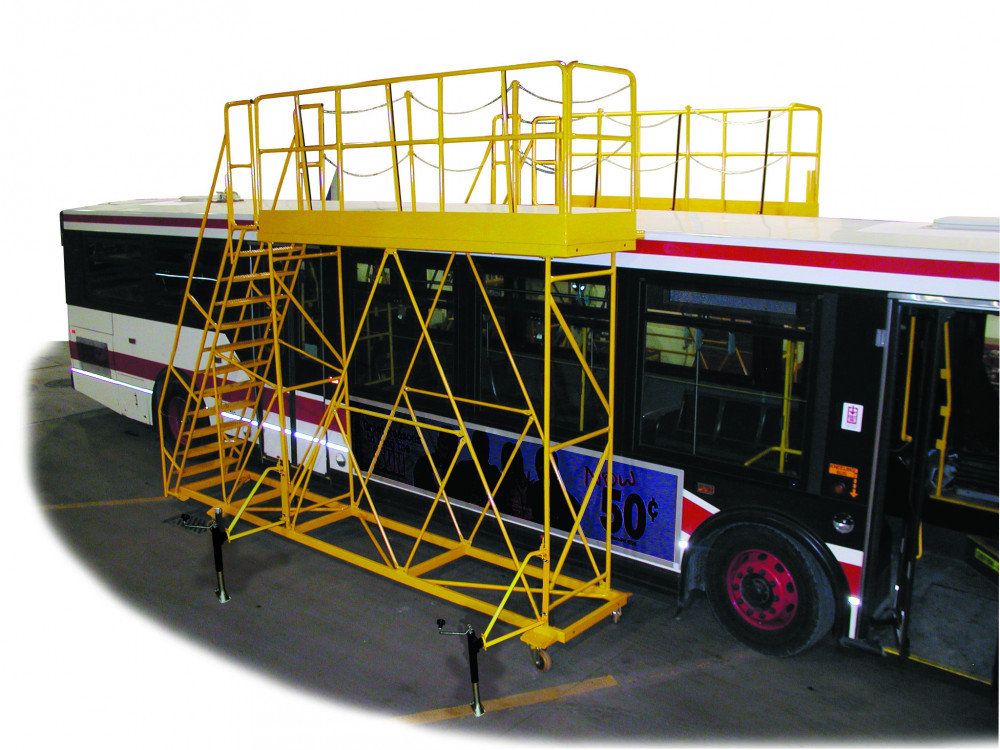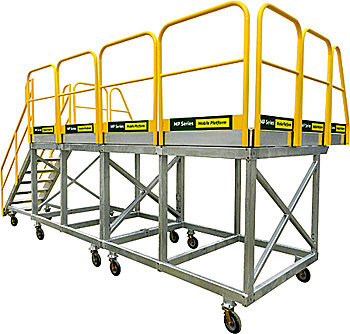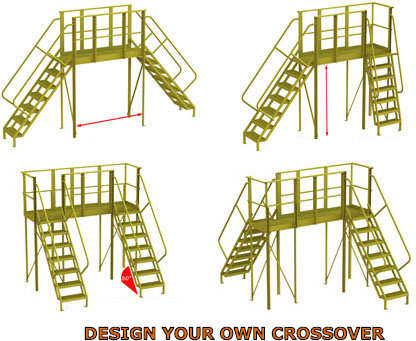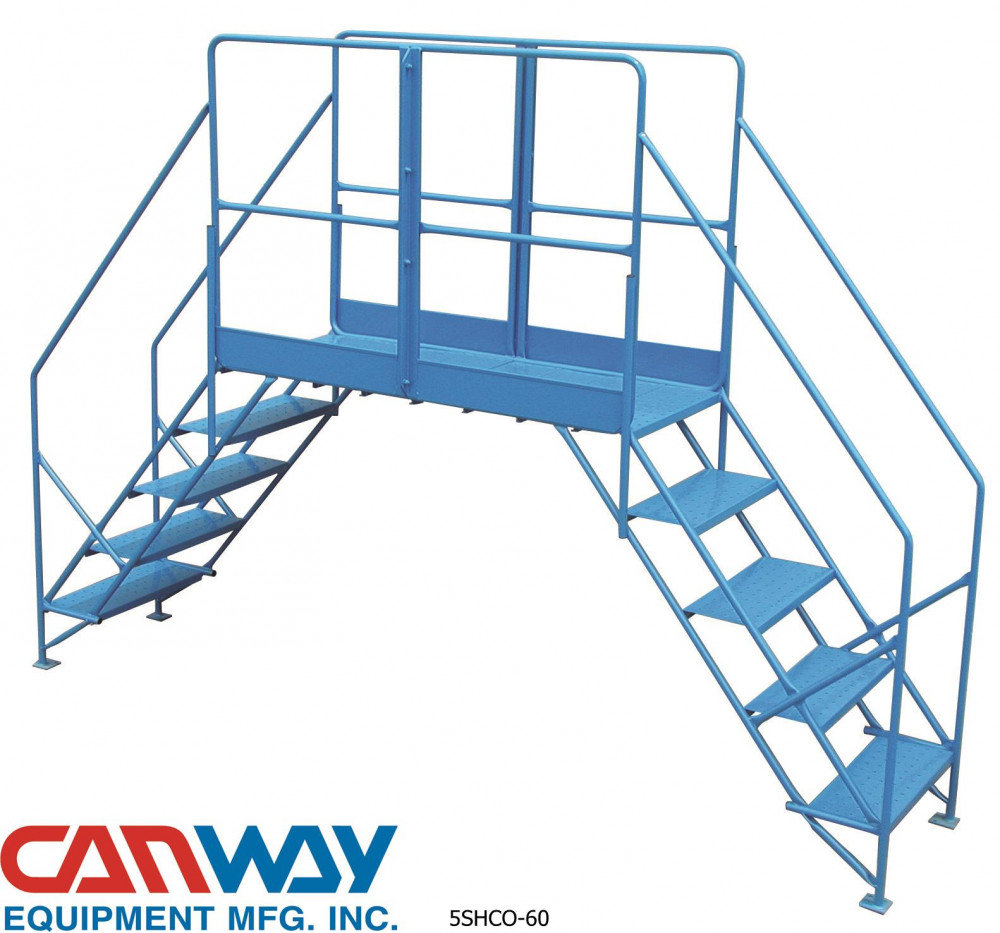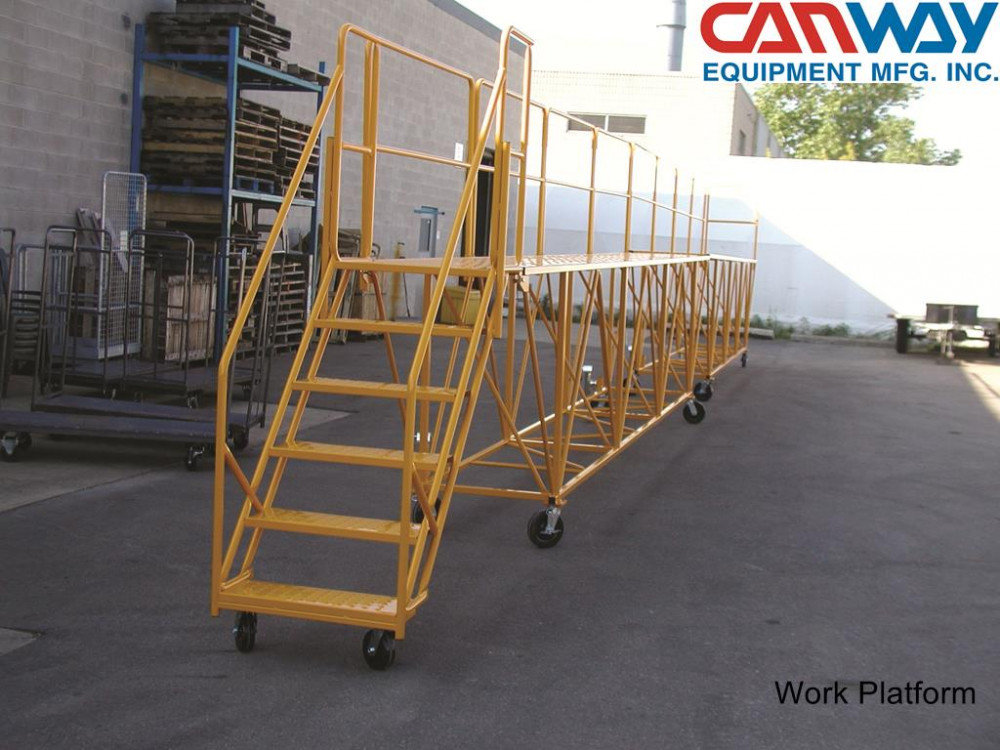 Rolling Ladders
KW Materials Handling is your source for rolling ladders, we carry more sizes, styles and brands than anyone else.  We also stock hundreds of rolling ladders at our distribution centre for fast delivery or pickup.  Brands we carry include Kleton, Canway, Tri-Arc and Cramer.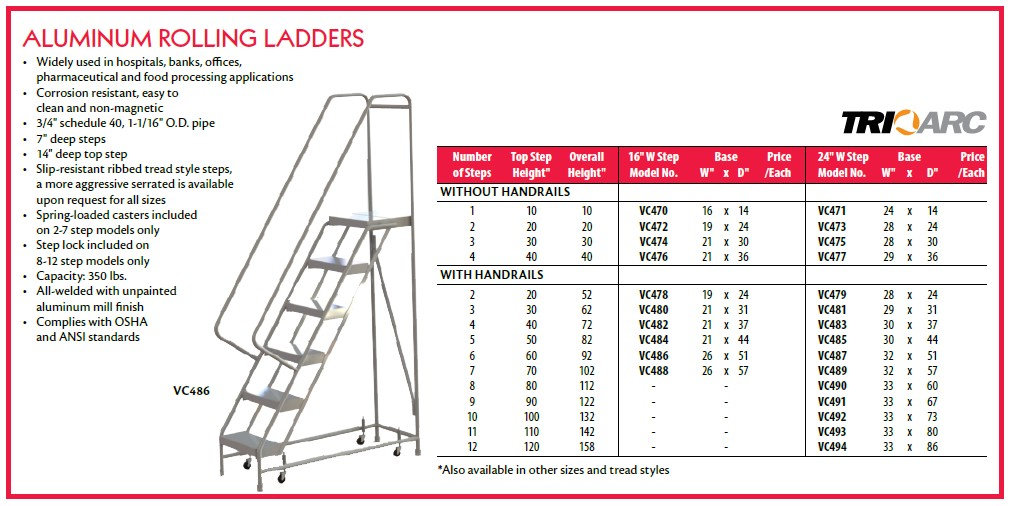 Mechanics Ladders, Tilt-N-Roll ladders & Step Stands
KW Materials Handling stocks a wide variety of specialty rolling ladders like mechanics ladders, tilt-n-roll ladders, trailer access ladders and rolling step stands.  These ladders are built with different designs than the standard rolling ladders and allow you to reach into work areas better, maneuver around tight areas easier and work at a safer angle or provide a larger top platform for a more stable and ergonomic working environment.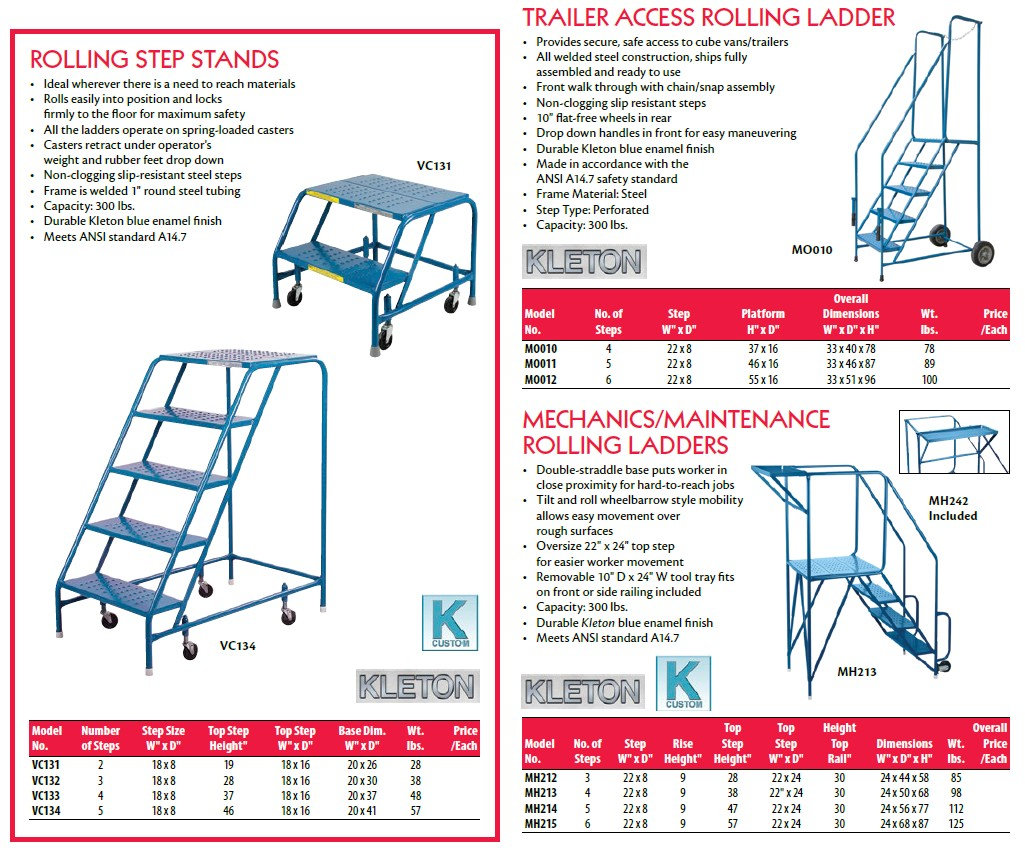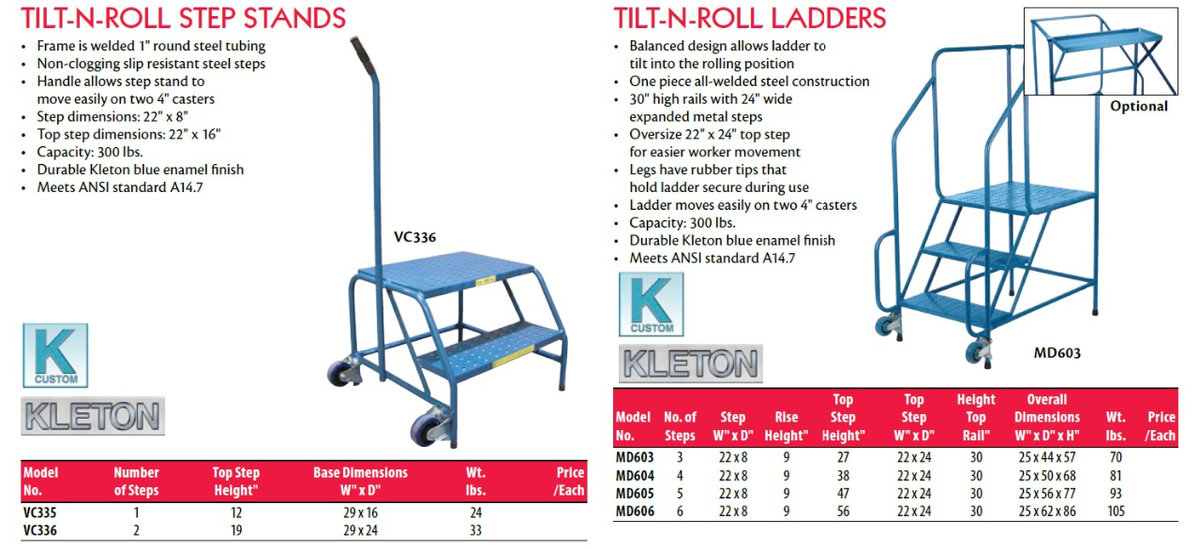 Platform Trucks, Shelf Carts, Order & Stock Picking Carts
KW Materials Handling offers more sizes and styles of carts and trucks that we can only show the most popular ones below, if you are looking for something you don't see below, please ask us because we have many more sizes and styles not shown.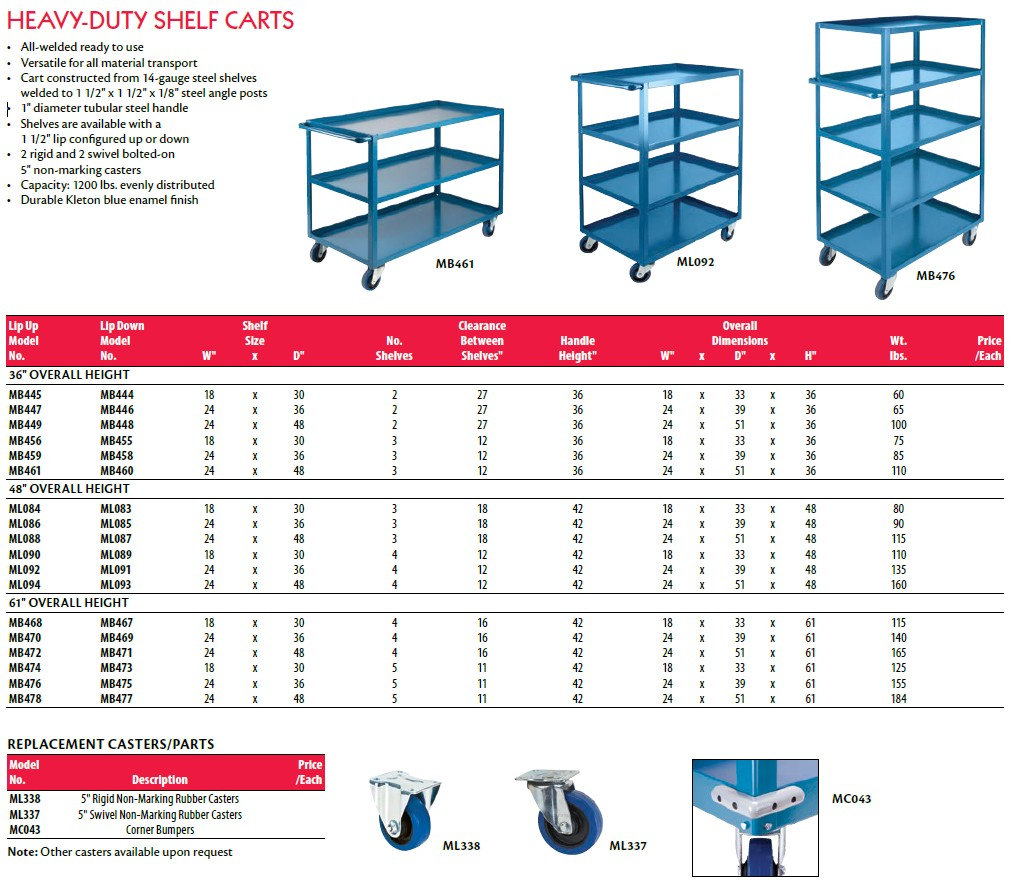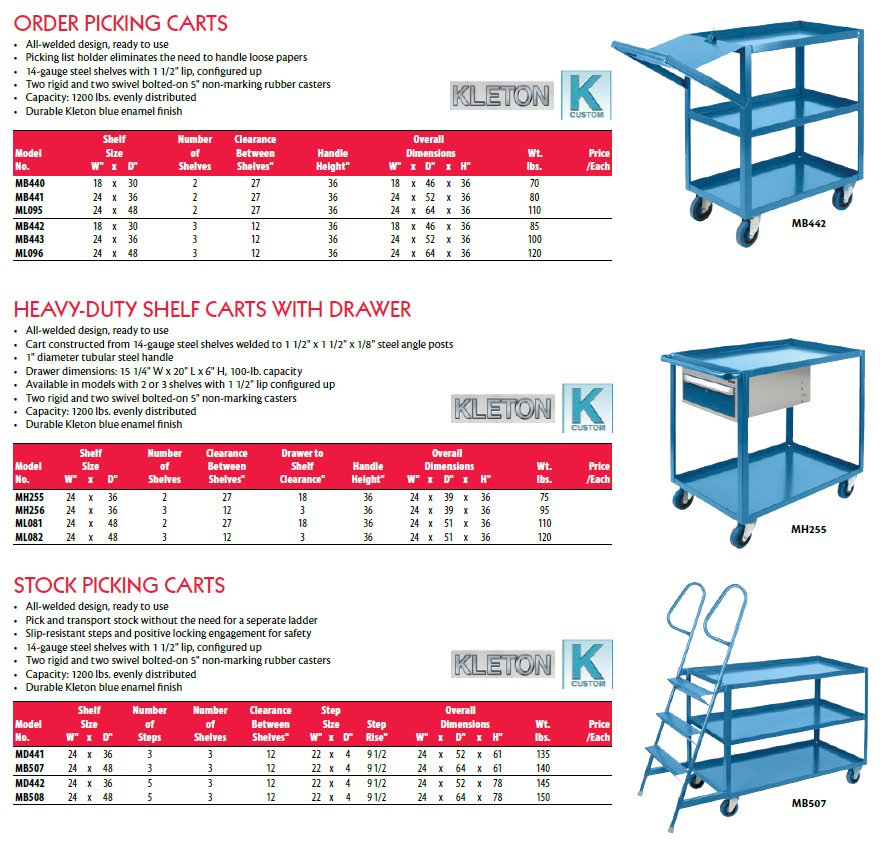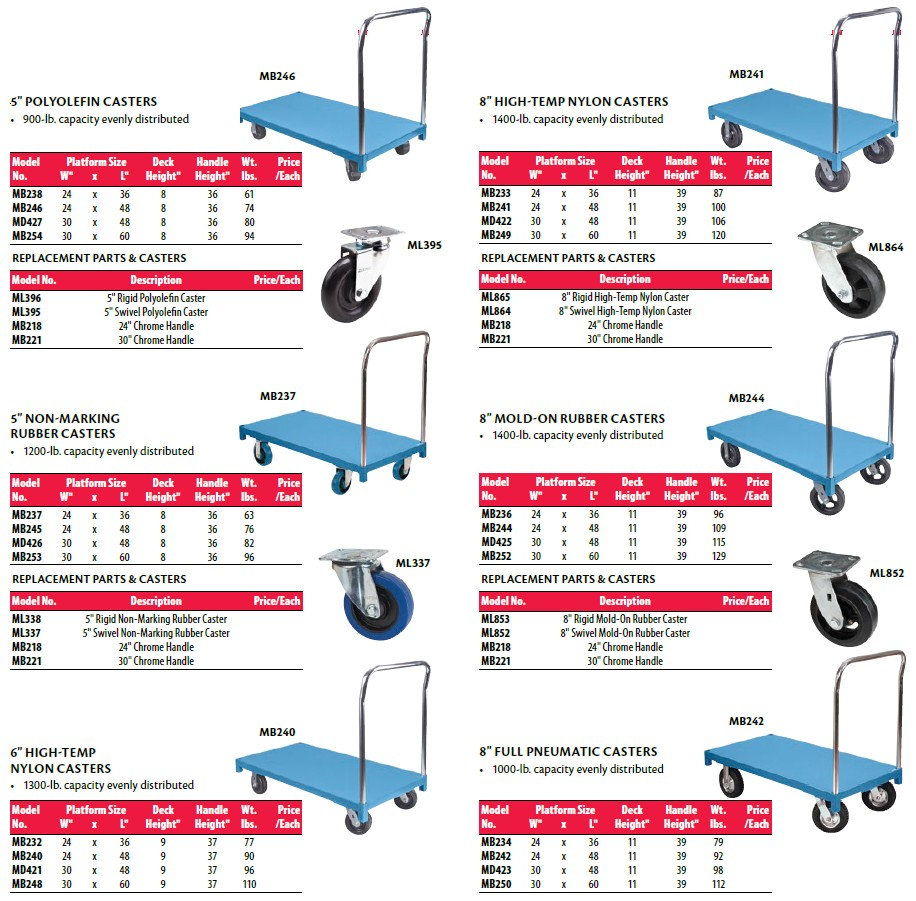 Lumber Carts, Drywall Carts, Panel Trucks
We stock a wide variety of specialty carts for moving and transporting and storing large, heavy and awkward materials.  Our specialty material handling carts and trucks are in stock for immediate pickup or delivery anywhere in Canada.  We have more sizes and options available so contact us today.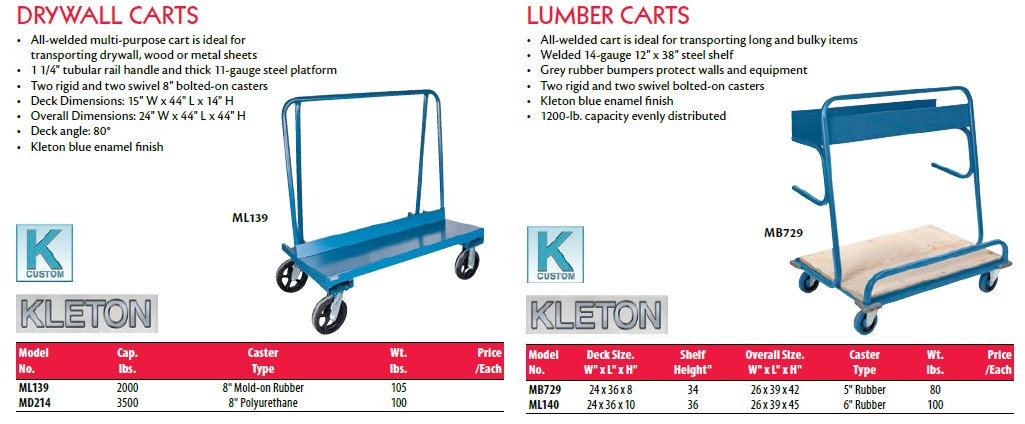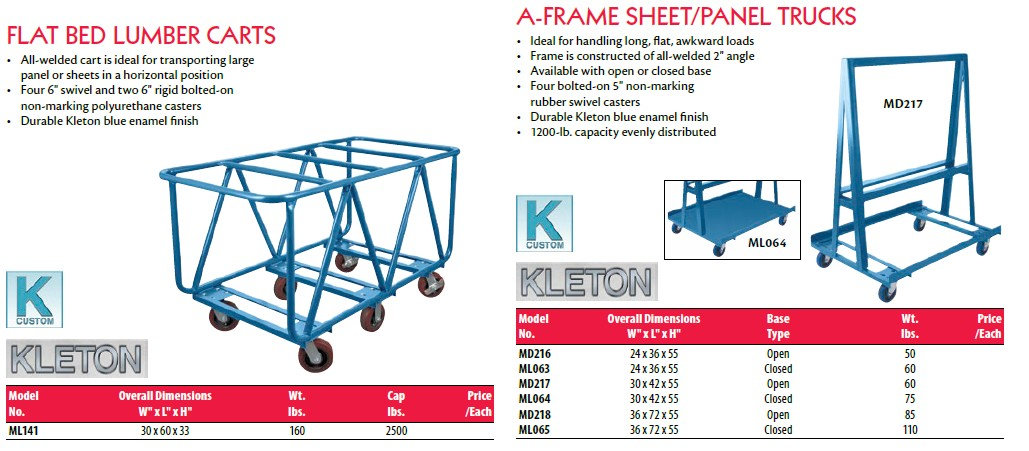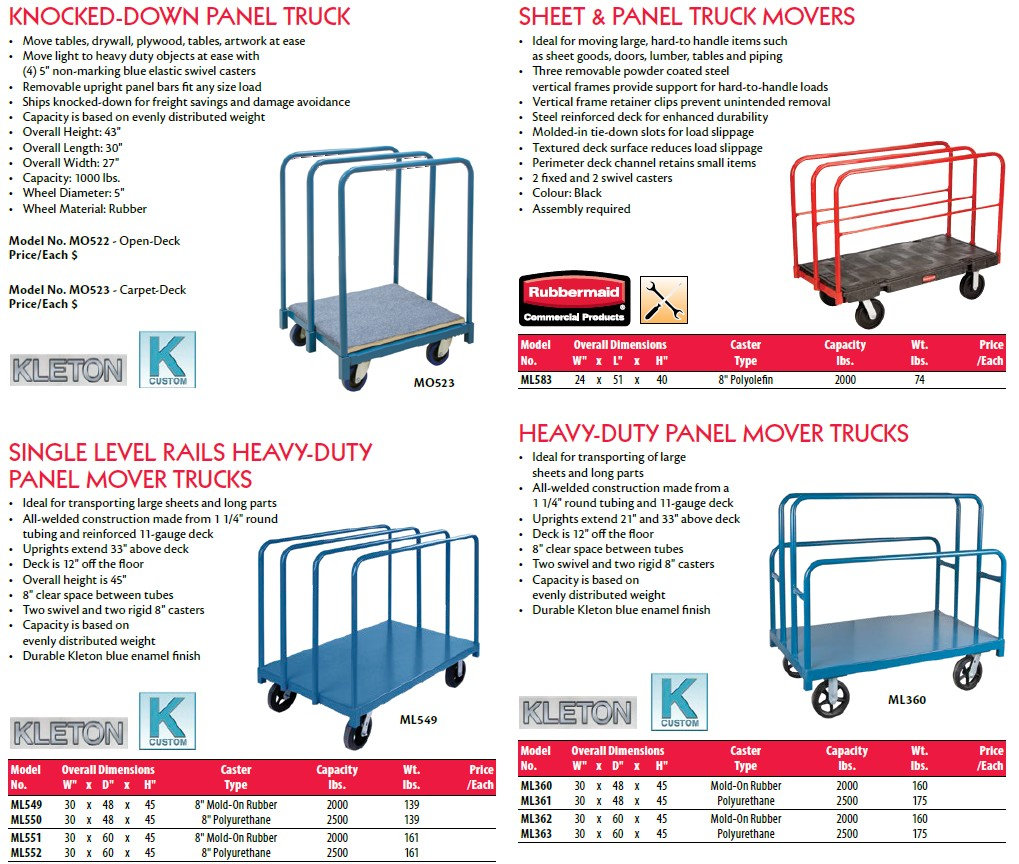 Wire Mesh Security Trucks, Box Trucks & Wire Shelf Trucks
We stock a wide varity of wire mesh stock carts, mesh utility carts and wire mesh security trucks in many different sizes.  These all welded carts and trucks are made in Canada with the highest quality parts and workmanship.  Quantity discount are available so inquire for pricing.